We've compiled some memories of the 'ol Sibley's General Store over the years. We hope you enjoy these images from the early years of the building to today. Many photos were retrieved from the archives of the Gloucester-Mathews Gazette Journal and Mathews County Historical Society. History has been retrieved through using much information from the Department of Historic Resources.
The Role of the General Store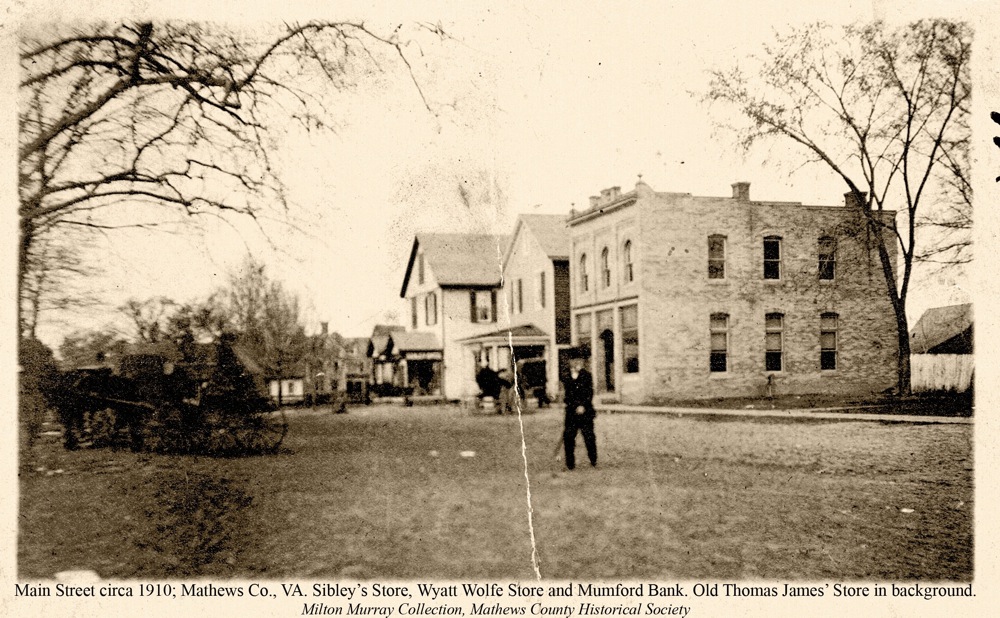 ---
The Sibley's and James Store Historic District
Sibley's General Store is one of three commercial buildings to comprise the Sibley's and James Store Historic District where Mathews County residents shopped for odds and ends for nearly 200 years: Thomas James store (1820), the "1840 store" (which is attached to the rear of Sibley's by a hyphen now serving as the Chesapeake Museum Room), and Sibley's (1898). The Thomas James Store was one of four mercantile stores in the courthouse area, which was moved back the rear of the parcel replaced by the larger 1840's store, which was later moved back to be replaced by the larger Sibley's store. This ensemble of store buildings now shows the evolution of commercial architecture and design that is rare in Virginia.
The only building of twentieth century, folk Victorian architecture remaining in the downtown commercial area, Sibley's General Store is on the National Register of Historic Places and Virginia Landmark Register.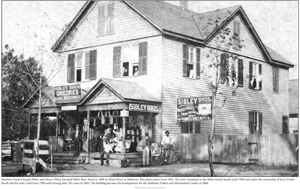 The Sibley's Bros.
Henry & Francis Joseph Sibley, grandsons of Thomas James owner of the historic (1820 Thomas James Store) purchased the property in 1898 for $250. They started
building the general store in May, 1899. By 1900 land record building values jumped to $1,100 and the Sibley's brothers were listed as owners, dealing in general merchandise. Henry had been the postmaster at the Mathews Court House from 1893-1897, which then was moved to Sibley's after it opening.
In the early years, before trucking and rapid delivery, most all goods were shipped from Baltimore via steamboats which landed at Williams Wharf on the East River, only a few miles away. The ledger book recorded a total of $46.59 (or ~$1,500 today) in sales on its first day of business, where whiskey and cotton gingham were most purchased. Sibley's was well known for its wide variety of stock, but customers relied on Sibley's for the odds and ends as the store was piled full of everything they could need. This could be penny nails, to tobacco, light fixtures, including food, salt fish, bologna or cheese.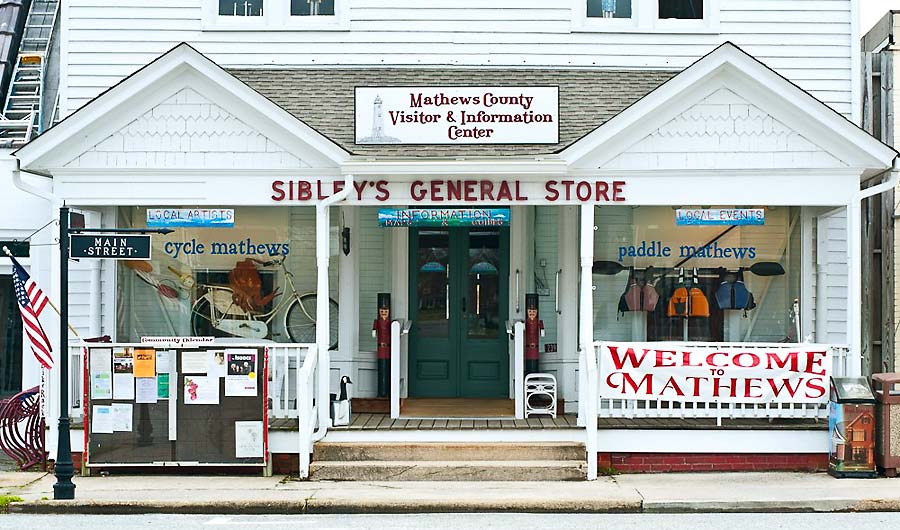 The Sibley brothers generated the logo "If we don't have it, you don't need it," which was printed on a sign above the counter, which still sits in the store to this day. If the Sibley brothers did not carry what a customer was looking for, they would find a suitable replacement. One customer recounted asking Henry if he carried toilet paper when it first became available in the area. To which he replied, "I don't have toilet paper, but I can give you some mighty fine sandpaper."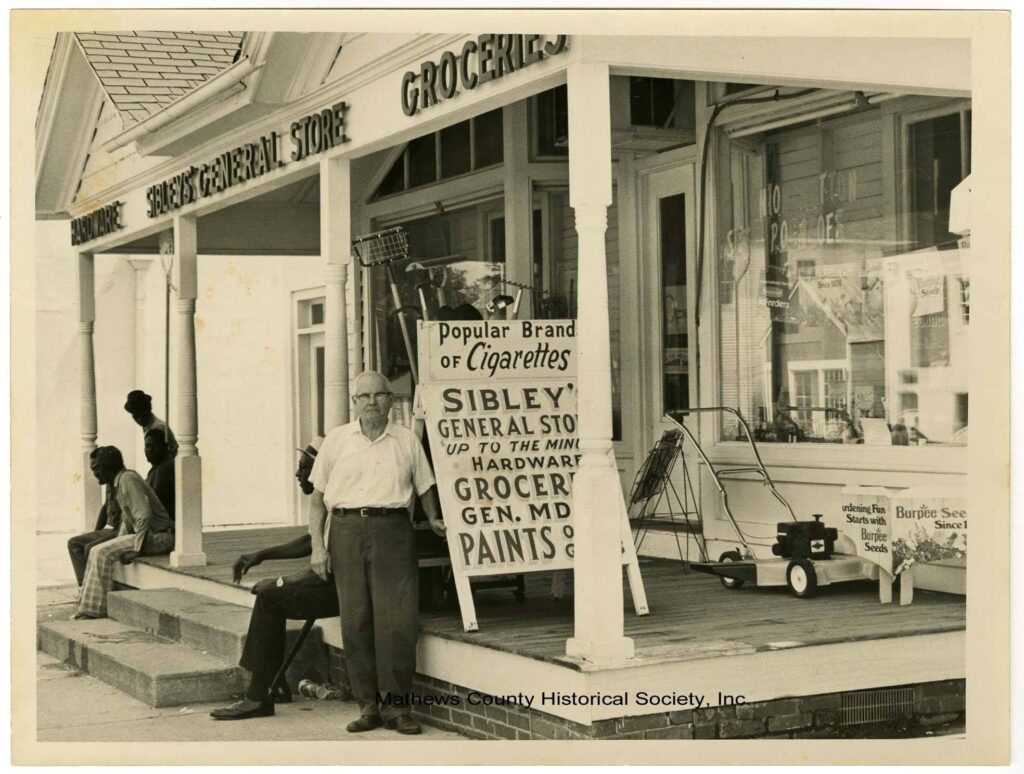 Cecil Sibley Takes Over
Henry Sibley passed away in 1937. Francis Joseph Sibley continued to run the store himself until his son, Cecil Sibley, took over the store in 1945 upon his discharge from the U.S. Army. Ultimately, Frances and his wife, and Henry's widow, Helen, all transferred their interest in the property to Sibley who continued to operate Sibley's in the same fashion as his family collecting money in the original cash register on his father's roll-top desk. He tallied sales in pencil on a brown paper bag. Many remember Cecil to this day and tell many stories of his personality.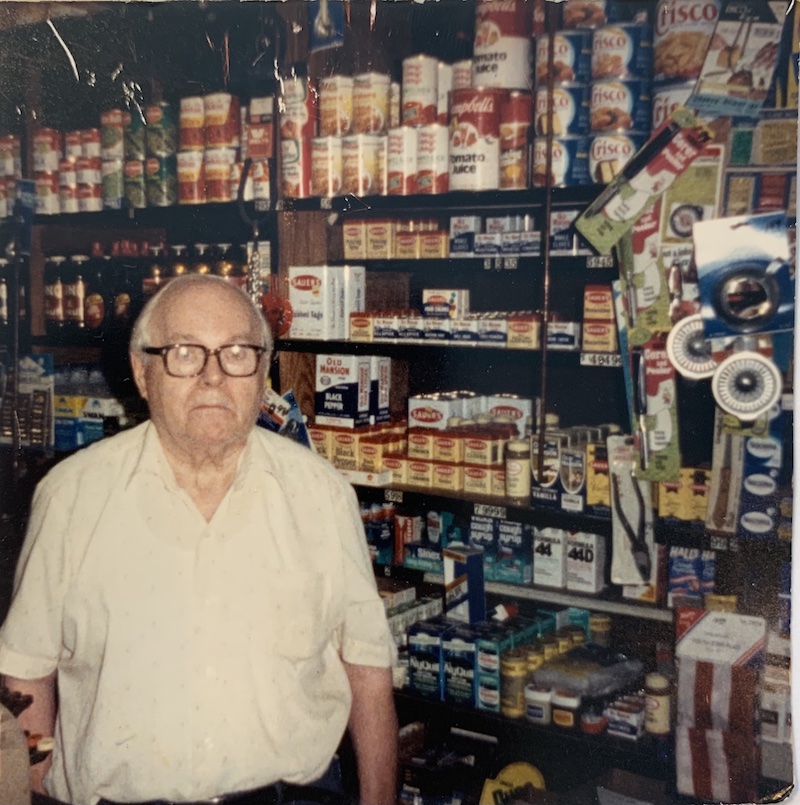 Stories of the store still ring in these walls. Some have told us that Cecil was rarely seen without a tie and he never smiled for pictures. People came here anything and everything from penny candy, American flags, fishing lures, pocket watches, mason jars, linoleum flooring, boat cleats, hobby horses, horse liniment, tobacco, cutlers, mops, ax handles, pressure cookers, bubba boots, buggies, lantern parts, mole traps, seeds and saws, baseball cards, flags, one nail – "because you could", a champagne flute shoved on a high shelf accessible only by ladder, a wedge of cheese, or slice of ham.
He was heard to kick customers out of the store at noon so he go upstairs to his living quarters, enjoy some lunch and sometimes take a mid-day nap. Sibley's was a gathering place for menfolk who would sit around the pot-bellied stove, exchange their yarns and discussing local business while selling out peanuts and throwing the shells under the stove. One customer inquired to Cecil whether he had peanuts for sale. His reply was, "No. For ever 10 cents worth of peanuts sold he would have 20 cents worth of mess to cleanup!"
Below you will see a poem written by Cecil's wife, Mary. When Cecil died in October 29 of 1987, the store was transferred Mary which operated until December 31st when she closed the store until new owner was found.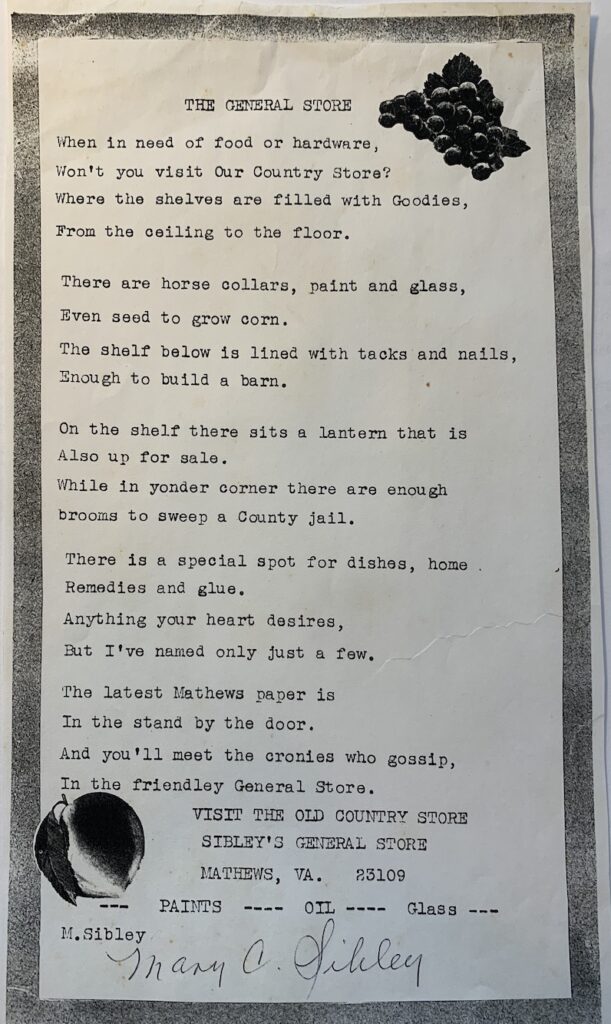 The General Store
When in need of food or hardware,
Won't you visit our Country Store?
Where the shelves are filled with Goodies,
From the ceiling to the floor.

There are horse collars, paint and glass,
Even seeds to grown corn.
The shelf below is lined with tacks and nails,
Enough to build a barn.
On the shelf there sits a lantern that is
Also up for sale.
While in yonder corner there are enough
brooms to sweep a County jail.
There is a special spot for dishes, home
Remedies and glue.
Anything your heart desires,
But I've named only just a few.
The Lates Mathews paper is
In the stand by the door.
And you'll see the cronies who gossip,
In the friendly General Store.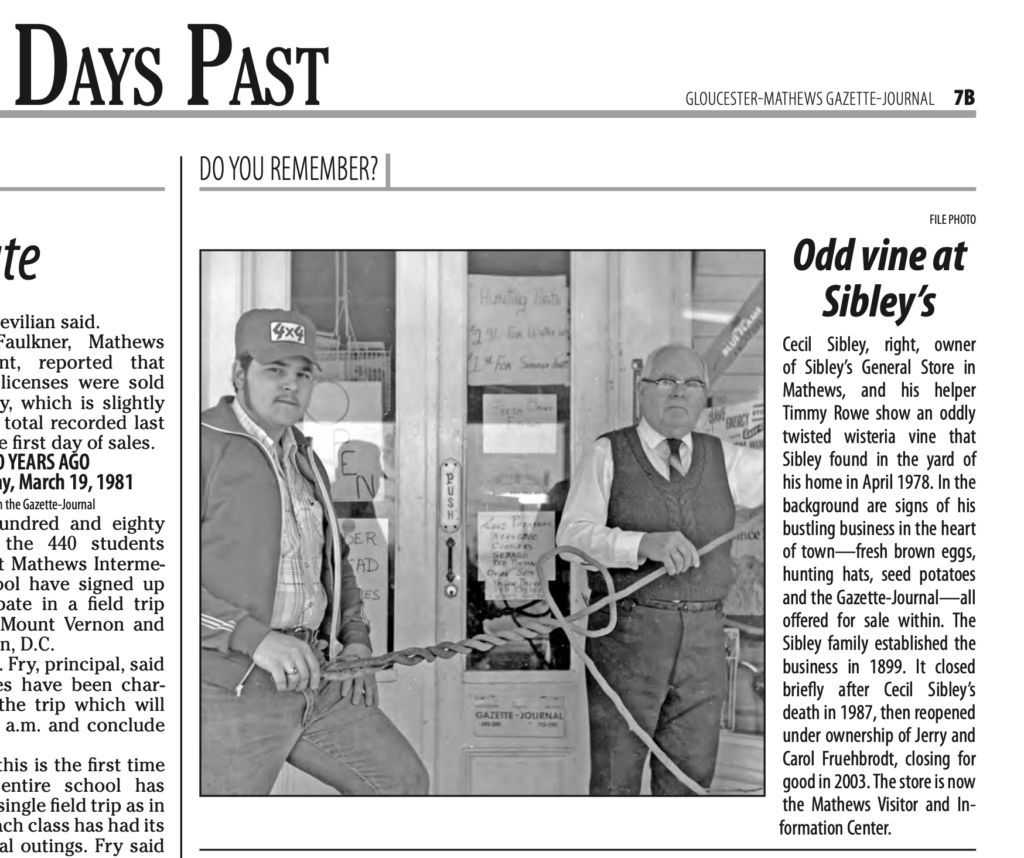 ---
New Owners buy Sibley's
Mary was determined to find new owners to connote operating the general store. She found Jerry and Carol Fruehbrodt, who owned a Gwynn's Island summer home, who purchased the building and all of its contents on March 14,1989 for $40,000. Sibley's was reopened immediately, retaining the same atmosphere, period charm, and making very few changes to the store or its merchandise.
According to this Gloucester-Mathews Gazette Journal article, Jerry Fruehbrodt was a Wisconsin natives and relocated to Virginia in 1854 while serving in the U.S. Army. He worked in the coin department at Thalhimers Department Store in Richmond and later opened his own coin shop. Later he started a soda foundation repair business and then sold furniture until he retired in 1988. Carol Fruehbrodt was employed with the Catholic Diocese in Richmond and planed to leave and help run their new business together.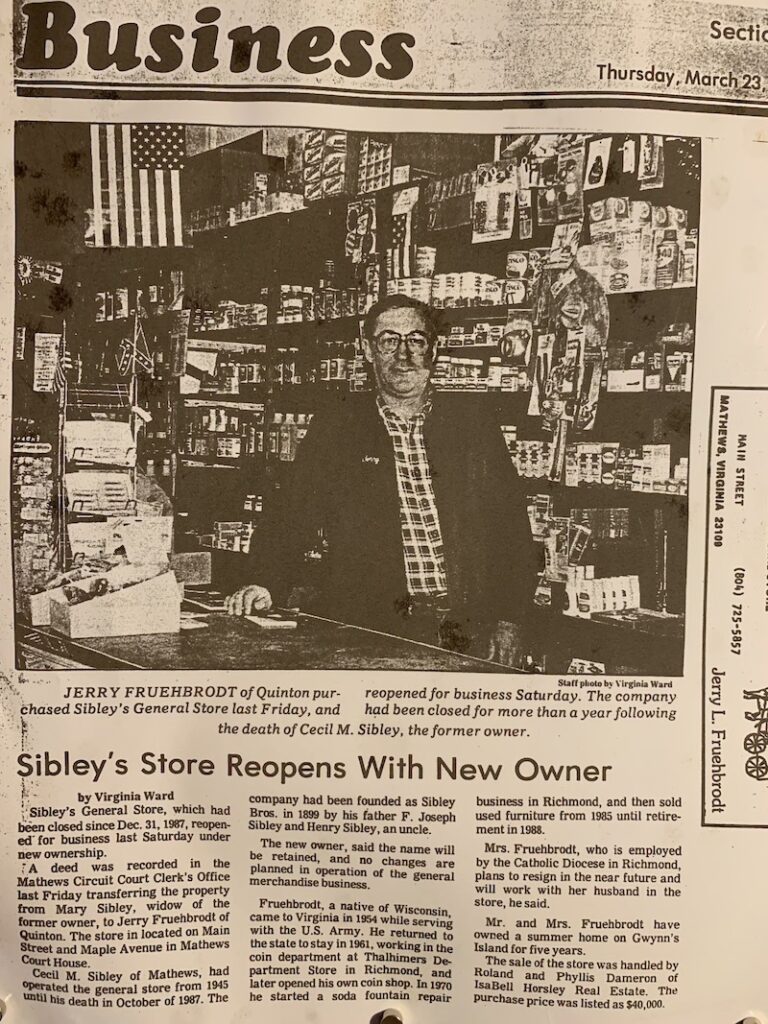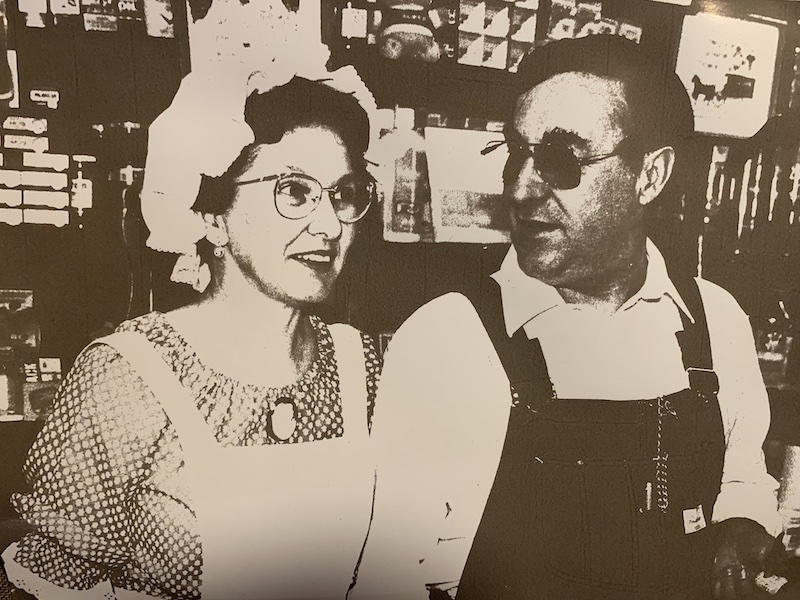 The Fruehbrodts ran Sibley's until November 2003. This marked the end of the Sibley's General Store era, and the last remaining operating general store in Mathews closed its doors. According to the Department of Historic Resources, "Sibley's outlived all other general stores in the region, and was one of only a few of its kind still operating in the state of Virginia at the time of its closing, while others sat vacant or had been converted to other uses."
---
The Visitor Center purchases Sibley's
On November 18, 2003, the property was sold to Michael Brown, a local real estate agent, and his wife Lisa Brown. The building was leased and used for office space and an antiques store for several years before being leased to the Mathews County Visitor and Information Center in 2006. In October 2008, the Mathews County Visitor and Information Center purchased the property and has made it home ever since.
Under many years of leadership of Visitor Center chairman, Amanda Taylor, extremely generous donors, and a dedicated group of individuals that have contributed to the ongoing growth of the Mathews Visitor Center and restoration of Sibley's, MCVIC paid off the building in its entirety in less than 5 years, and successfully completed multiple phases of restoration work to the building.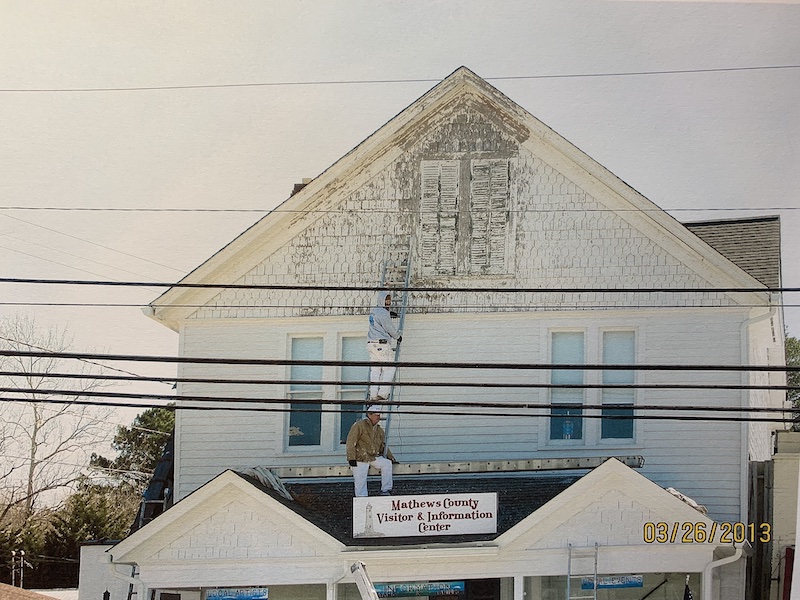 Over the years, MCVIC has re-roofed the Victorian portion of the building, installed gutters and downspouts, reinforced deteriorating joists and beams in the foundation, added a handicap access ramp (installed by the Rotary Club of Mathews), installed new HVAC and water treatment systems, connected the building to the county sewer line, constructed a handicap accessible bathroom, and kitchenette, and constructing an Executive Directors office (constructed by Art Miller, Bob Voth and David Mooreman). A dedicated group of individuals and generous residents constructed and donated items to create the Chesapeake Museum Room that sits in the Old 1840 store.
Much work has been done to improve the exterior facade including new window shutters, exterior siding repair, fresh coats of paint and a series of installation of new signage and community calendars.
You can help us in these efforts to preserve Sibley's for the future!
Amanda Taylor, combined with a tremendous amount of supportive hands in Mathews including board members, donors, friends, volunteers, community organizations, and her husband Jim Taylor, allowed Sibley's a second
life into the new century.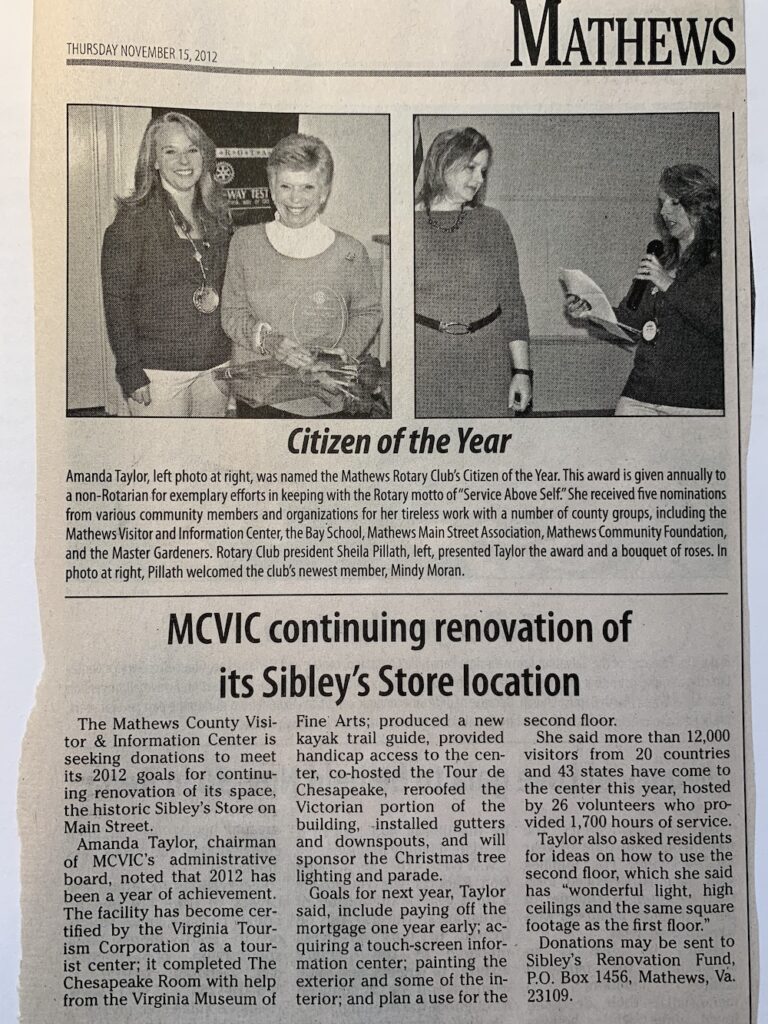 ---
About MCVIC
MCVIC was established in 2001 as one of the organizations that developed out of the Mathews County Sustainable Environment and Economic Development (MCSEED) during a "community renaissance" to revitalize the county. MCVIC has since grown into a successful economic driver for the County of Mathews. MCVIC is the county and state-designated Destination-Marketing Organization and the official body responsible for incubating the economy through tourism.
MCVIC links people to our natural assets, businesses, events and unique Chesapeake Bay culture. This is made possible through public and private funding sources: MCVIC receives roughly 30% of its operating budget from the County of Mathews to assist with operations, while the remainder is subsidized through commerce (35%), grants (22%), fundraising (8%), and events (5%). The community utilizes Sibley's for information, a local business directory, brochures and maps, Mathews made retail venue, community events from festivals to trash cleanups, advertising and marketing, real estate guidance, local history and even business attraction.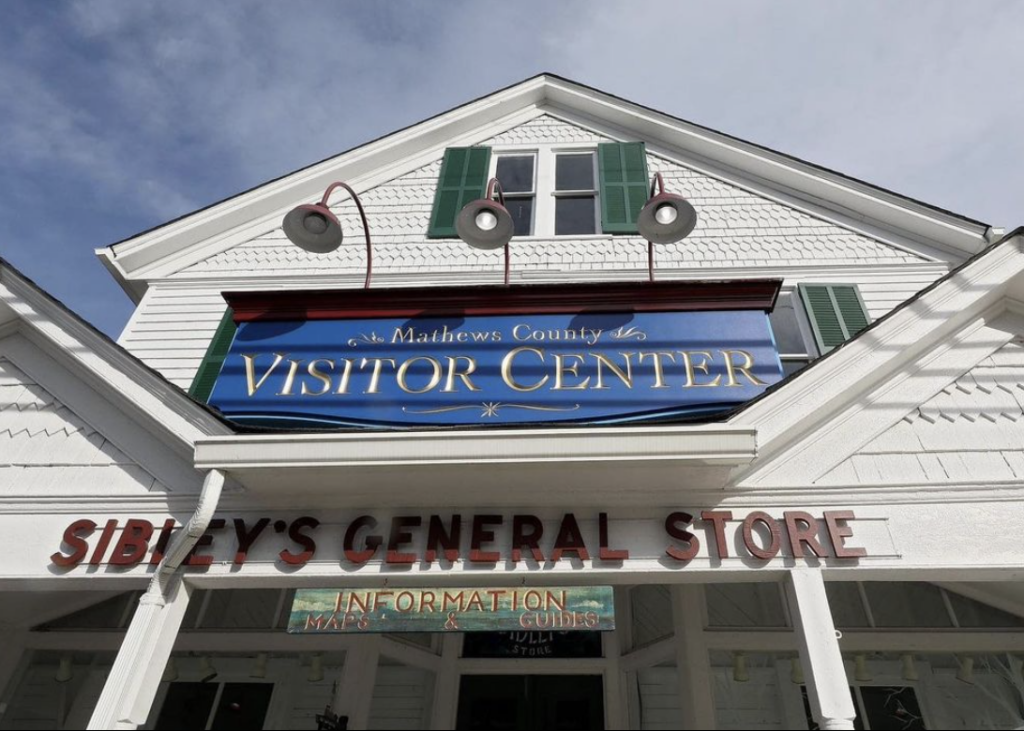 Mission and Value Statement
Our Vision
The Mathews County Visitor & Information Center will serve the county in supporting tourism and providing information for the purpose of enhancing the lives of the residents of Mathews, and to all those who visit here.
Our Mission
Our mission is to: 1) serve as the tourism arm for the county of Mathews through its advertising and marketing programs, storefront operations and web presence; 2) promote economic development by acting as a resource for local businesses and residents, creating programs and activities that benefit merchants, draw tourists, and enhance life for Mathews residents; 3) provide displays, exhibits, and interpretive information that educates and encourages stewardship of the Chesapeake Bay and the natural resources of Mathews County.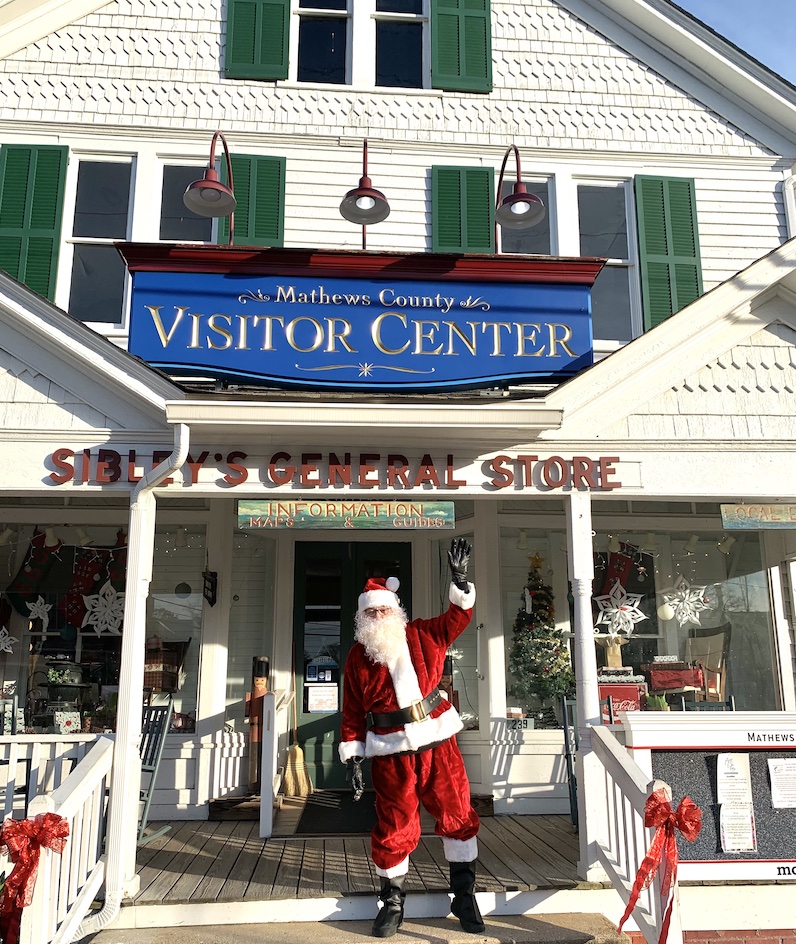 In 2016, MCVIC's Visitor Center Advisory Board hired Engineer Design Associates of Richmond to evaluate the structural integrity of Sibley's General Store. We learned from the study that the foundation was seriously deteriorating from over a century of aging and severe water damage. The persistent damp environment of Mathews compounded by frequent high water events, flooding, and poor drainage systems along Maple Avenue to Main Street have all contributed to the failing foundation. The worn brick and mortar piers, and deteriorating wood structural members are regularly exposed to these conditions creating a condition of inevitable failure that if not addressed early, could cause significant damage to the remaining integrity of the building, and make repair costs out of the scope of our organization.
Restoring Sibley's is a major part of our organization's history. Our connection to Sibley's has enriched our work to promote economic development through tourism for the County of Mathews. MCVIC is committed to preserving and dignifying this venerable structure in the heart of Mathews County's downtown because our permanent home in Sibley's has manifested our impact and mission in the community.
From its origins as a general store where residents traded goods and collected their mail to its importance today as a beacon for tourists and locals alike, Sibley's is central to life in Mathews County. You can help to ensure that Sibley's remains firmly planted well into its next century. Only with our support can it continue to serve us all.