Mathews wins "Top 10 Hidden Gems for Craft Lovers" – America Craft Week, 2019
Dorothy Fagan Artist
Pictured featured above "Tide Coming In" Bethel Beach
Call: 804-366-0990
Website: DorothyFagan.com
Joy's Garden Studio by the Pond – Visit Dorothy's garden studio by the pond where she paints joyful gardens, water scenes, village views and cottage gardens of Mathews, Gloucester, & the Northern Neck. Open Friday, Saturdays and Sundays by Appointment in Hallieford, VA
Bay School Community Arts Center
Location: 279 Main Street, Mathews, Virginia 23109
Call: 804-725-1278
Website:BaySchool-Arts.com
Gallery and Cultural Arts Center – Providing students of all ages a unique opportunity to explore the arts. Year-round classes are offered in painting, sculpting, rug hooking, glass blowing, bead working, papermaking, basket weaving and more. The Center also hosts special exhibits, lectures and live performances throughout the year. A true gem on Mathews Main Street.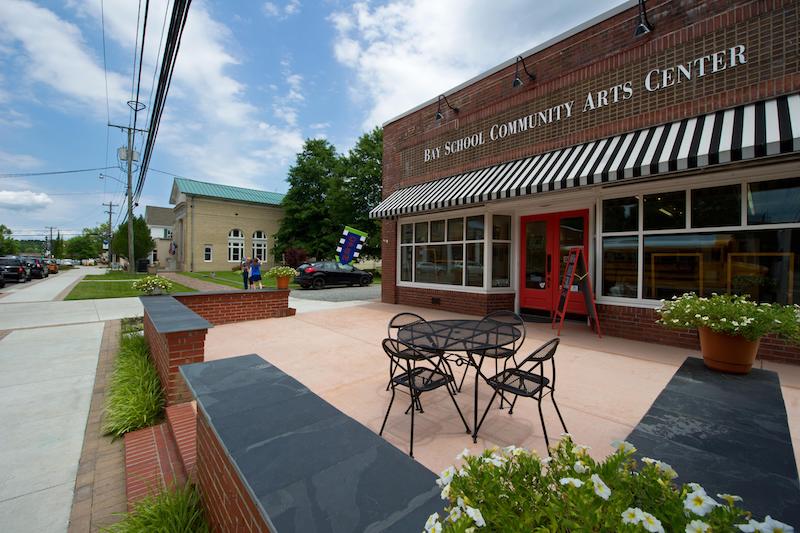 Put-In Creek Carvings
Location: 206 Main Street, Mathews, Virginia 23109
Call: 804-725-8650
Facebook Page:Put-In Creek Carvings on facebook
Local Art Gallery – Personal work of Ben Richardson and other artists. Richardson has 22 artists offering their creations, in mediums that include brass, metal, wood carvings and paintings. A unique folk-art studio with a pool table in the back where young and old can come in visit and play some pool.
The Poddery
Location: 177 Poddery Lane, Foster, Virginia 23056
Call: 804-725-5956
Website:ThePoddery.com
Pottery Studio & Showroom – Weekly kiln firings produce the largest selection of handmade stoneware, and tiles in the area. Original pottery, outdoor sculptures, Chesapeake Bay inspired designs may be seen at this unique pottery showroom, open daily.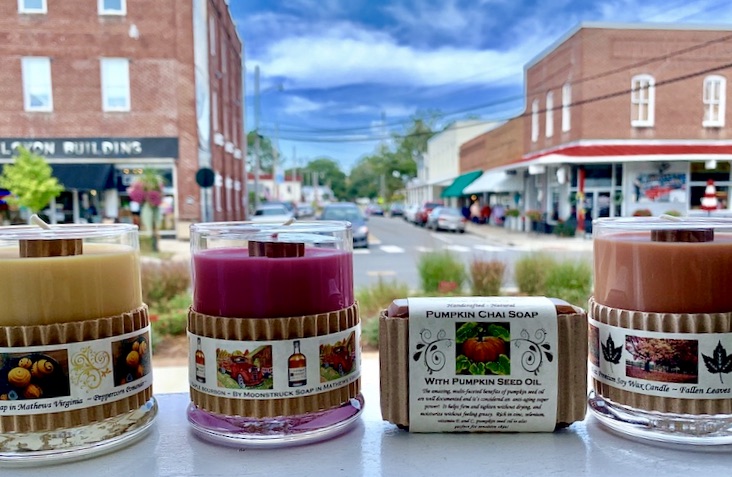 P. Buckley Moss Ltd.
Location: 74 Poplar Grove Ln, Mathews, Virginia 23109
Call: 804-725-7378
Website: pbuckleymoss.com
One of P. Buckley Moss's distribution centers is located in your very own Mathews County. You can visit the showroom Monday through Fridays from 9am to 5pm to take a tour of her collections and facility.
Mathews County Visitor Center
Home of the Made in Mathews Showcase. Over 60 local artisans display their craft offering a wide variety of items.
Location: 239 Main Street, Mathews, Virginia 23109
Call: 804-725-4229
Contact Us
Open Studio Tour
Annual Event – Visit the studios of artists living and creating in beautiful Mathews County, Virginia. Experience the natural surroundings and special places which inspire them. View the Made in Mathews Open Studio Tour website.
Queens Creek Studios
Precious Gemstone and Sterling Silver handcrafted jewelry. Come see Melanie's one of a kind designer jewelry, have something specially designed, or just visit the gallery for inspiration and learn about the stones sourced from all over the world. While you are here, meet Fortune (the trick parrot). Call ahead for an appointment.
Location: Cobbs Creek, VACall: 804-725-0809 or 908-256-2990
Facebook: https://www.facebook.com/QueensCreekStudios/
Does your Mathews County art studio or gallery belong on this list? Contact Us
River to Bay Artisan Trail
Mathews County joined the Virginia Artisan Trail with Gloucester, Essex, and Middlesex ("GEMM" of the Middle Peninsula). You can create your own customized artisan trail experience and itinerary by visiting the website. Eat, shop, and tour over 90 artisan-inspired points of interests within the Middle Peninsula alone. Please know that most small business galleries may require advanced notice!