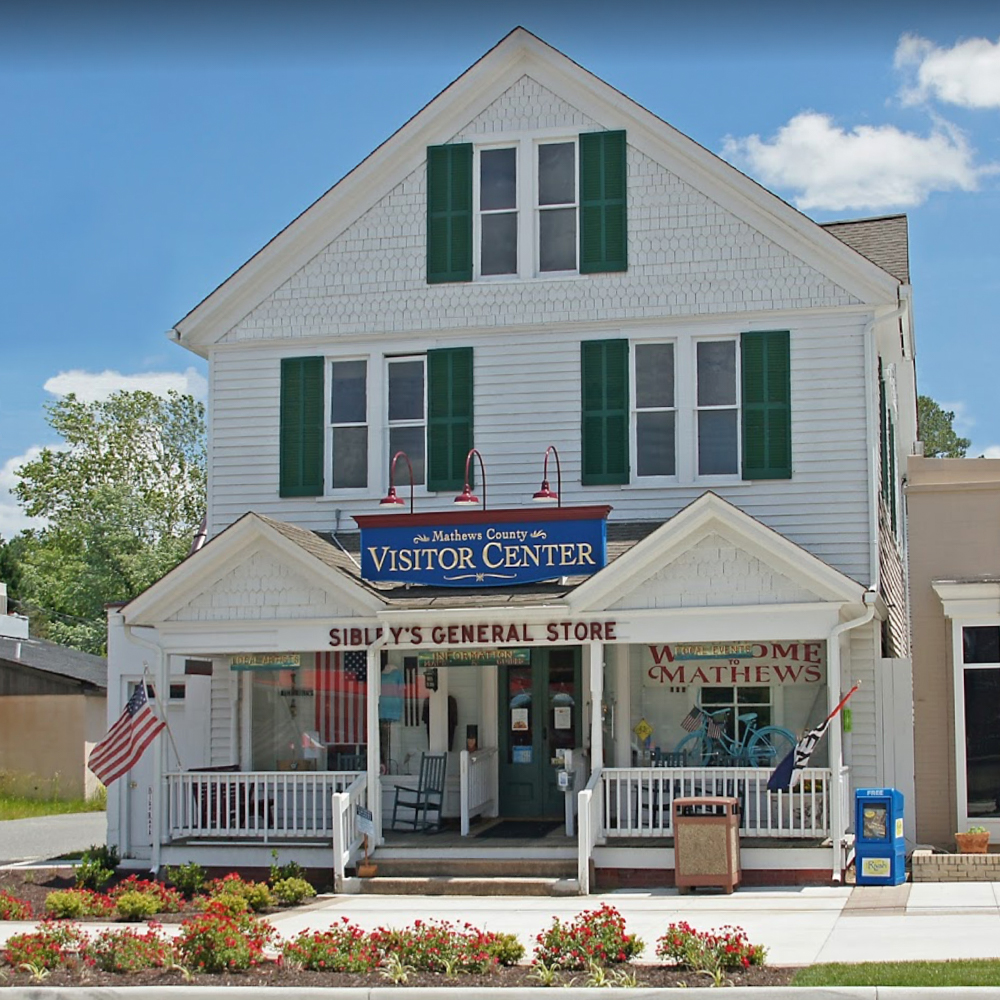 Sibley's General Store has been central to the Mathews County Downtown Historic District since the store was constructed in 1899. Serving our community for over 120 years, the impacts of time and climate have not gone easy on the historically registered building. MCVIC has a plans in place to preserve its structural and historical integrity into the future. We have reached our goal and construction is currently underway until Summer, 2023! Read more about our project and how you can support this vital campaign to save Sibley's
About Sibley's | Project Details | Our Sponsors | Contribute | Volunteers
Saving Sibley's: A Campaign for Sibley's General Store
Walk down Main Street in Mathews, Virginia, and the old Sibley's General Store grabs your attention. Home to the Mathews County Visitors and Information Center (MCVIC), the mighty 1899 Victorian draws a constant flow of visitors and locals stopping in for a friendly word, business advice, or an entertaining history lesson. And that's how it's been for this cornerstone of the community for more than 120 years. From its origins as a general store where residents traded goods and collected their mail to its importance today as a beacon for tourists and locals alike, Sibley's is central to life in Mathews County. You have helped to ensure that Sibley's remains firmly planted well into its next century and continues to serve us all.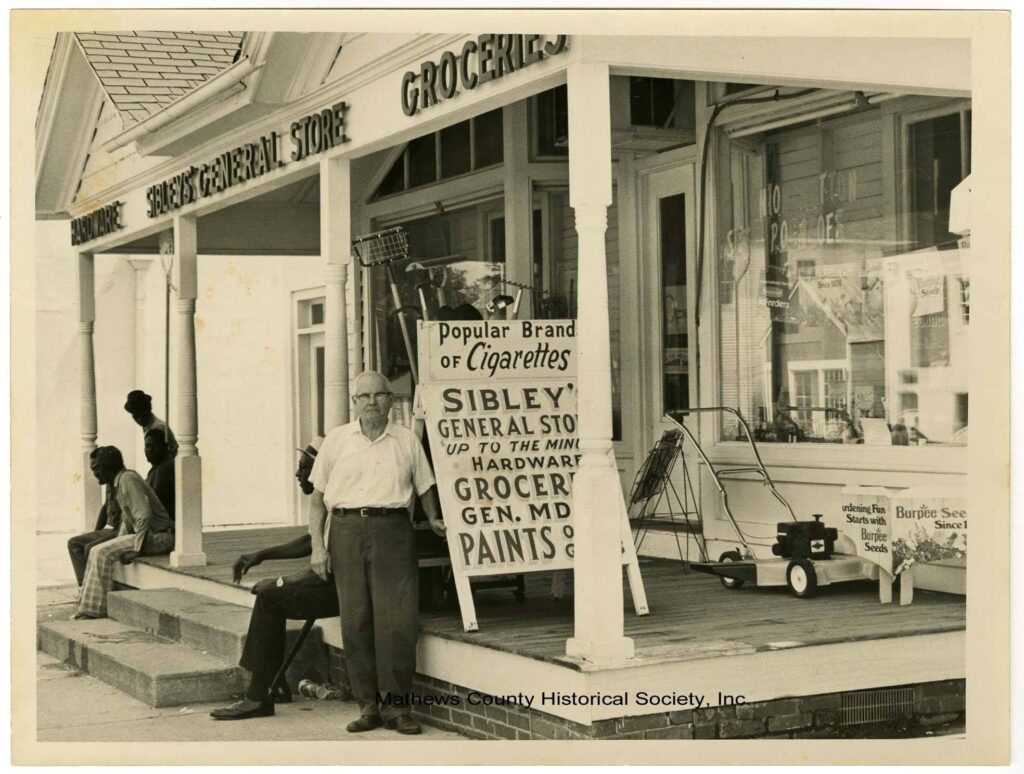 A STORE OF SIGNIFICANCE
MCVIC was instrumental in assuring the listing of Sibley's listing on the Virginia Landmarks Register and the National Register of Historic Places, just after we took ownership in 2008. Since then, our renovations and stewardship have allowed this gem of vernacular architecture to continue to function in a manner true to its origins.
Read more – click for more details

MCVIC has replaced the roof; improved the exterior facade; installed new windows, shutters, and HVAC and water treatment systems; repainted interior and exterior walls; added a bathroom, kitchenette and office; and renovated the old store in the rear into the Chesapeake Museum Room.

When MCVIC purchased the building, we quickly realized that our vision for the community was profoundly compatible with the historical significance of the rural general store. Thus, the mission of MCVIC and the history of Sibley's General Store became one: inviting economic opportunity by amplifying the resources of the local community to the outside world.

Our work to promote economic development through tourism for Mathews County is enriched by our home in Sibley's. Today, MCVIC is a cultural hub and the heart of the county's community-oriented spirit. We often see people enjoying the quiet stillness of our small town, seated in our well-worn rocking chairs, watching the activities of a popular Main Street. Here, MCVIC encourages programs that enhance visitors' experiences, such as the annual Tour de Chesapeake. We promote a welcoming and engaging culture that helps residents enjoy the special quality of life that made them choose Mathews. The Center plans events and programs such as the Christmas Parade that foster community pride and togetherness. Citizens come to Sibley's to gather information, network, and get involved. MCVIC has given Sibley's General Store a second life in its second century.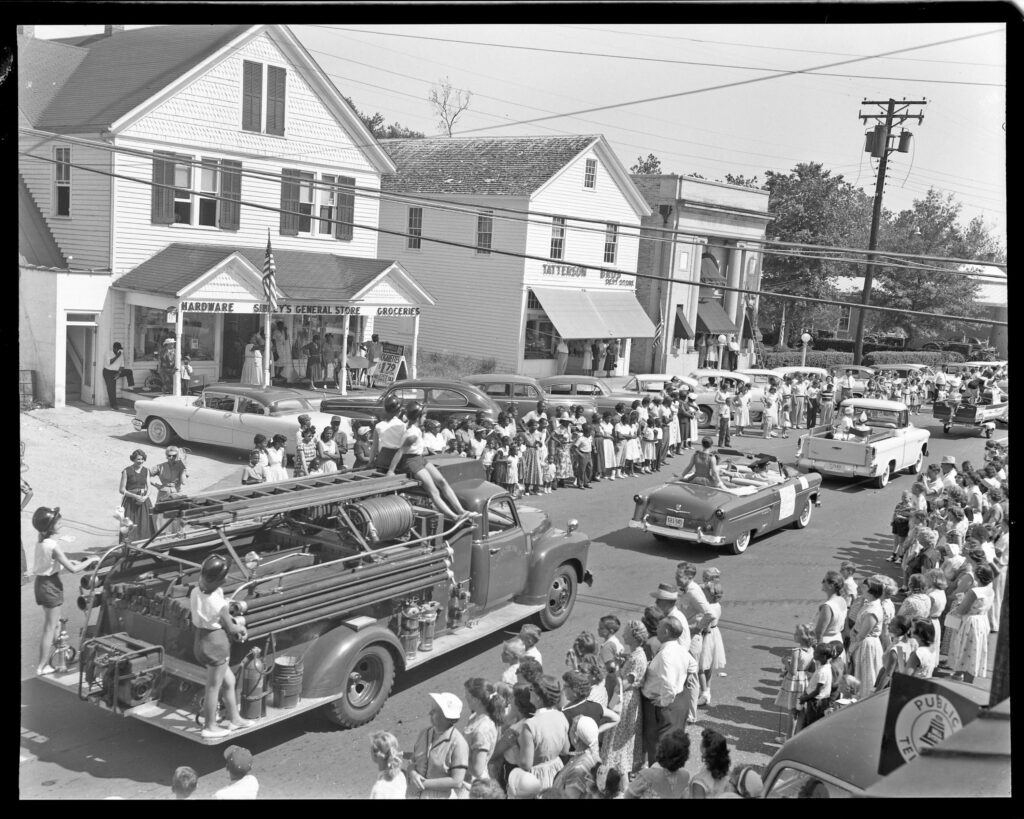 A FOUNDATION FOR THE FUTURE
Despite our multiple improvements, time and climate have not gone easy on Sibley's. Thanks to the community's help, we have raised the necessary funds to restore the foundation.
A 2016 engineering evaluation revealed serious deficits in the building's foundation due to aging and water damage. Frequent flooding events and poor drainage systems along Maple Avenue and Main Street have all played a part in compromising the foundation.
Deterioration includes damage to the worn brick-and-mortar piers and wooden structural members. As a result, the clock is ticking: we have only a few years to avoid acceleration the damage from future storms and hurricanes.
In 2019, MCVIC Board convened a talented team comprising engineers, contractors, a fundraising expert, and dedicated volunteers to help us come up with a plan to replace the foundation of Sibley's. The plan is being implemented to save Sibley's and preserve its structural and historical integrity. This project is complex due to its adjacency to Mathews Main Street and close proximity to the Library. The entire campaign costs a total of $625,000.
ABOUT THE CONSTRUCTION – click for more details

• Lift the building and shift the building up to 32" to the North to provide sufficient area to direct water from both Sibley's and the Library out to the street storm sewer system

• Demolition of the existing foundation and nonconforming 1950's exterior staircase

• Replace deteriorated beams and joists in the foundation

• Replace structural members as necessary in the substructure of the building

• Reconstruct the existing foundation to sit on a continuous foundation 3-4 risers higher than the existing to avoid contact with the ground

• Lower building on a newly constructed continuous foundation built to modern building code for commercial use in the 1st and 2nd floors

• Grade and fill under the building and create a positive flow in the landscape to prevent future storm events from accumulating water under the building. Improve flood mitigation by adding gutters, addressing water drainage, and landscaping

• Repair any exterior damage to clapboard siding, trim, and guttering that will provide a building envelope with resiliencies and integrity for many years to come

• Rebuild the non-original addition (building hyphen connecting the Old Store "Chesapeake Room and Sibley's) to include a new handicap accessible stair to the second floor

• Plan includes drawings for proposed future renovations for the 2nd and 3rd floors – upper floor restoration will not be addressed in this phase

---
WE MADE OUR GOAL!
The generosity of donors, foundations, and our hometown community bank have helped us achieve our fundraising goal in just two years! More than $185,000 of these funds were raised in honor of Jim Taylor and memory of Amanda Taylor for their incredible impact on our organization and community over the years.
Thank you to our generous supporters!
SIBLEY'S PRESERVATION CIRCLE
$25,000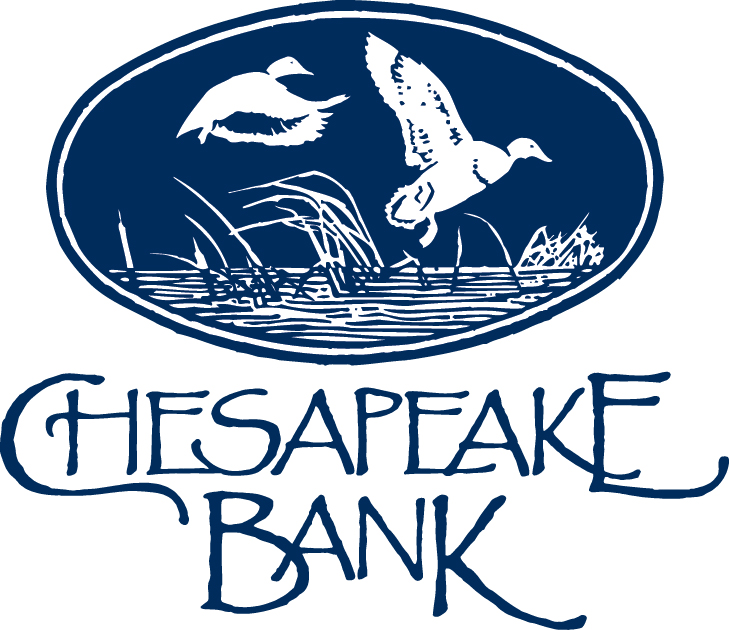 Mathews Economic Development Authority
The Cabell Foundation
The County of Mathews
---
FRIENDS OF THE OL' GENERAL STORE
$10,000
---
JOIN US & Make a Pledge!
You can conveniently make a pledge online using the secure PayPal link below. For more information or if you'd like to make a multi-year pledge, please contact MCVIC Executive Director Emily Allen at 804-725-4229 or [email protected].
We are still accepting contributions toward the Sibley's project that will be allocated to a fund to cover the costs of future maintenance of the building.
Please join us in saving Sibley's. Your gift will preserve this iconic structure so that it may stand tall on Main Street for decades to come. Your families, friends, and future generations – along with visitors unknown to you – deserve the pleasure of walking beneath the colorful stained glass transom to discover all that Mathews County has to offer. Take part in this historical endeavor by pledging your support today.
---
Thank you to these individuals who have served on various committees to Save Sibley's:
Saving Sibley's Committee: Greg Dusenberry (President) • Hunt Thompson (Treasurer & Chair of Fundraising)• Bobbi Hatton (Vice President) • Emily Allen (Executive Director)
Volunteers: Bob Voth • Dennis Baker • Gay Butler • James Carleton • Joe Diggs • Lewis Hubbard • Marianne Rizzio • Patricia Dickey • Pete Clendenin • Peggy Hudgins • Rebecca Brown • Ron Lambert • Paula Hersh • Lynda Smith Greve • Carmaleta Billups • Christine Johnson • Judy Bailey-Kinker • Rosemary Griffith • Sheila Crowley • Steve Pope
Frances Hudgins of Hudgins Design Collaborative; Ruth Modlin Ellett, Campaign Counsel