Restaurant Directory | Shopping Directory
Shop Mathews Local
There is plenty of shopping to be done in Mathews, in fact we bet you can find almost all the essentials locally if you choose to invest your time and dollars in the community!  Mathews has nearly 16 boutique stores for gift shopping and home decor, Moughon's and M&M Hardware Stores have all of your home supply and hardware needs, many local galleries offer unique gifts that reflect our coastal community. 
Your first stop for all things local in Mathews County, Virginia is at Sibley's General Store with area information & guides to help you navigate Mathews with insight into historic sites and all the best shopping and dining. Home of the Mathews Visitor Center. Pick up one of our handy FYI booklets for a full list of shopping and dining experiences in Mathews.
Boutiques, Seafood, Meats, Produce & Grocery
Shopping Directory – Including Fashions, Gifts, & Fresh Food Sources
Restaurants Directory – Dining options in Mathews vary from fine dining to fast carry-out. With locally sourced seafood, vegetables & wine, award winning eateries, and fast food favorites.
A Culinary Experience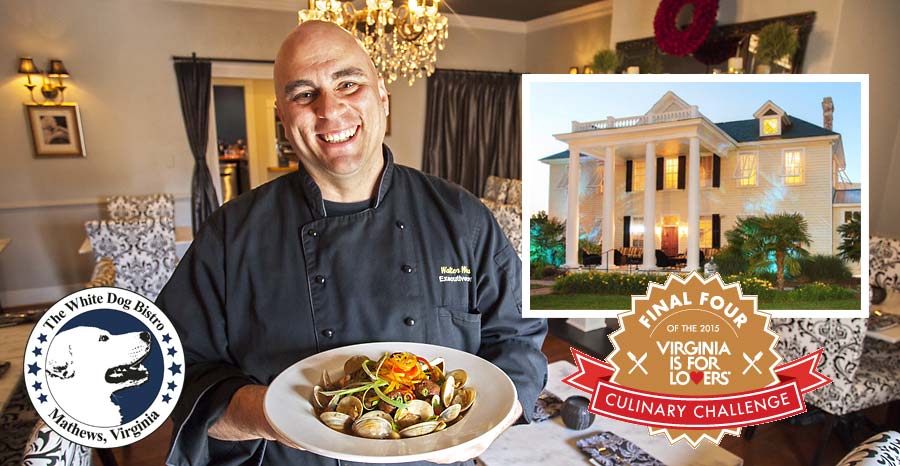 Our hats off to Chef Walter Wilkes of the White Dog Bistro.  Chef Wilkes continues to an impressive streak of winning awards for his culinary excellence including Runner Up for Best Chef in the 2019 Chesapeake Bay Magazine "Best of the Bay" and 1st place of Best Bay-To-Table Restaurant for the Magazine.  Wilkes also placed in the Final Four of the 2015 Virginia is for Lovers, Culinary Challenge with his dish, Island Clams 'Espagnole', a savory combination of steamed littleneck clams, pasta, and Spanish Chorizo skinned sausage. Check out the full list of accolades and hours by visiting the White Dog Bistro Website.
Mathews businesses and restaurants won over 30 awards in 2019 alone!