Blueways Water Trail Map | SUP paddle | Tour Guides
Kayak & Canoe Launch Sites | Marinas | Tide Charts
Quickfacts about Mathews – the Ultimate Kayak Lovers Destination:
Mathews is a peninsula, with over 200 miles of shoreline
Mathews has over 15 public access points to the Blueways Water Trail system
There are 4 self-guided trials, and over 100 miles of waterways
Mathews is well on its way to becoming a kayak-lovers haven, and why? Many of the rivers, inlets, and creeks that surround the county are shallow waters, meaning little interaction with motorized boats and many local services that offer kayak rentals! Stay a long weekend, bring your kayak, or book a tour with an outfitter to start exploring the beautiful shorelines of Mathews County! If you're a keen kayaker, but don't yet have your hands on a kayak, make sure you get your perfect one before a trip to Mathews. You can find a great kayak here for you water adventures.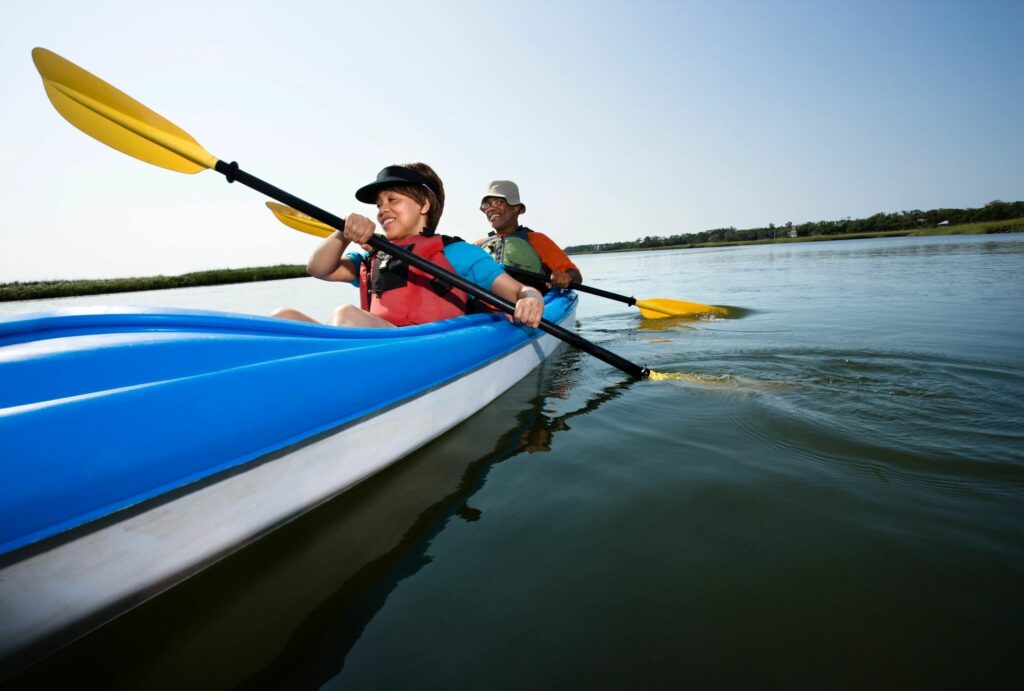 Multiple kayak launch sites and kayak tour operators combine to bring you a kayaking experience for the entire family. You can launch from the popular New Point Comfort Observation deck or choose from an abundance of kayak launch sites throughout the county.
Self Guided Kayak Tours – Extensive information is available for your use as you traverse the 100+ miles of water trails throughout Mathews. The Mathews Blueways Water Trail Guide includes launch sites and detailed area maps for each launch site.
Download the Mathews Blueways Water Trail Guide. Contact the Visitor's Center for free maps, guides and details on kayak launch sites throughout Mathews County.
Stand up Paddleboarding (SUP)
Bring your own paddle board and launch at one the 15 water access points across the county or rent boards from one of the tour guides listed below. Many shallow, protected creeks give you plenty of opportunity to learn and explore how to paddle the Bay waters. A few fun itinerary suggestions – just watch the tides!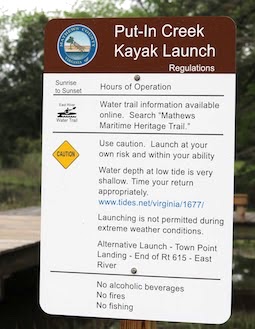 Launch at Winter Harbor Haven Landing and meander through narrow marsh grass paths.
Launch at Town Point Landing and paddle up to the Put-in-Creek Kayak for lunch and shopping downtown. Watch the tides!
Launch from Roses Creek Landing or Whites creek Landing and paddle up to Hole in the Wall for a waterfront lunch!
Paddle Tour Guides
Take a guided tour with one of our area experts. They know the ins and outs of the finest kayaking areas available and are true stewards of the environment, and safety. Tours available in all categories from historic sites to birding and wildlife adventures.
Mobjack Kayaking
Come explore the wonders of secluded creeks; pristine beaches and remote islands. Experience nature; birds, dolphin and much much more up close. Closer than you ever imagine! Kayak Rentals, Tours, Camping, Lessons, Kids Summer Camp, All Season – Dianne Campbell, BCU 3 Star Certified
Phone: (757) 645-6251
Email: [email protected]
Website: mobjackkayaking.net
Bay Country Kayaking
Offering tours of New Point Comfort Lighthouse and beach as well as tours in surrounding counties. Personalized adventures are happily arranged from almost any waterfront area. Contact Shannon Alexander, Certified Virginia Ecotour Guide and American Canoe Association Instructor, See video below.
Phone: (855) 865-2925
Email: [email protected]
Website: baycountrykayaking.com