Saturday, October 15th
The 2nd year of the Mathews Marathon, hosted by the Mathews Outdoor Club, features more options to encourage runners of all fitness levels to participate in this competitive event. The 2022 event not only features the full marathon, but also a half marathon, team relay option, and a virtual option for runners who can't make the race day, or can't travel to Mathews.
Run along the peaceful, rural backroads of beautiful Mathews County, Virginia. This race features a fast, flat course that winds through dirt, gravel and paved roads past the serenity of one of Virginia's last great countrysides featuring marshland and glimpses of the Chesapeake Bay.  Registration will close on October 6.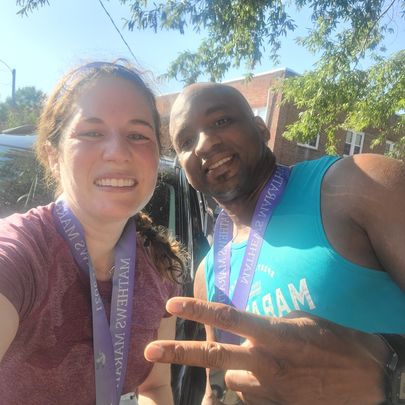 About the Race
The race will start & finish is in downtown Mathews where participants can stick around after the event to enjoy the Mathews Farmers Market, downtown stores and restaurants. The course features volunteers staged every 2.5-3 miles with water and gel.
The Marathon Route Half Marathon Route
Sign up
Grab some friends, your couch, your family, or whoever motivates you and sign up for this year's Marathon event on October 15th. Feel free to make it a weekend affair, and get to enjoy the Mathews Farmers Market, Kingston Parish Fall Fair, downtown shopping, museums and restaurants after the event. There's plenty for your family to do while they wait to cheer you on across the finish line.