The Seafood Shack Expands
Seafood lovers now have more options to enjoy fresh, raw, and cooked seafood for take-out or dining-in right here in Mathews County. The Seafood Shack has opened for business as a brick-n-mortar restaurant!
The Seafood Shack started the summer of 2017 by Rob Martin. As soon as the mobile trailer started parking over long weekends along Main Street, customers quickly hopped on the band wagon and Rob has been back almost every weekend since!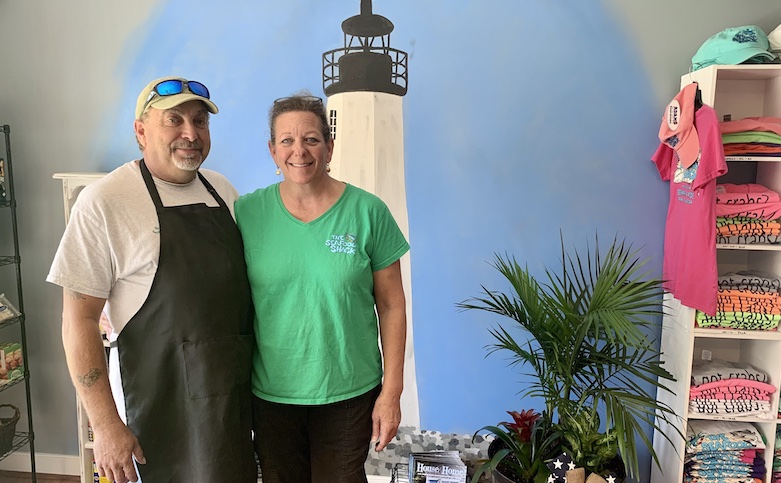 It didn't take long for Rob and his partner Amy Blanock Hudgins to take on their full scale mobile seafood operation. They moved their location to the Mathews M&M Building Supply parking lot to accommodate an expanding customer base. In 2020 they invested in a larger, multi-function mobile trailer to increase their supply. From shellfish, fresh market fish, to imported goods like salmon, mussels and even lobster, Rob and Amy's business took off.
The new trailer even let them start serving hot and cold prepared seafood to-go for lunch or dinner, food truck style. This menu included Amy's touch with homemade recipes such as she-crab soup, chowders, dips, salads and crab cakes.
Here we grow again!
Fast forward to 2022, Rob and Amy have expanded even further to a brick-n-mortar fresh market and restaurant operation located at 10744 Buckley Hall Rd., previously run by the Daily Grind Coffeehouse.
"Here we grow again!" said Rob. The Seafood Shack has expanded their fresh seafood market with a much larger selection and variety of seafood products. They eventually hope to carry select meat products and produce as seasons allow.
The aesthetic of the new business features a clean, open space with new appliances. A finished rough sawn lumber bar top with a rustic metal roof resembling a "shack" – an ode to their name. The walls adorned by local artwork, decor honoring watermen and Chesapeake Bay Heritage, and even a freshly painted New Point Comfort Lighthouse mural. The fresh market section features refrigeration areas with quick-grab seafood and pre-packaged goods, and a deli-case filled with seafood salads, fresh fish and varieties of shellfish to purchase.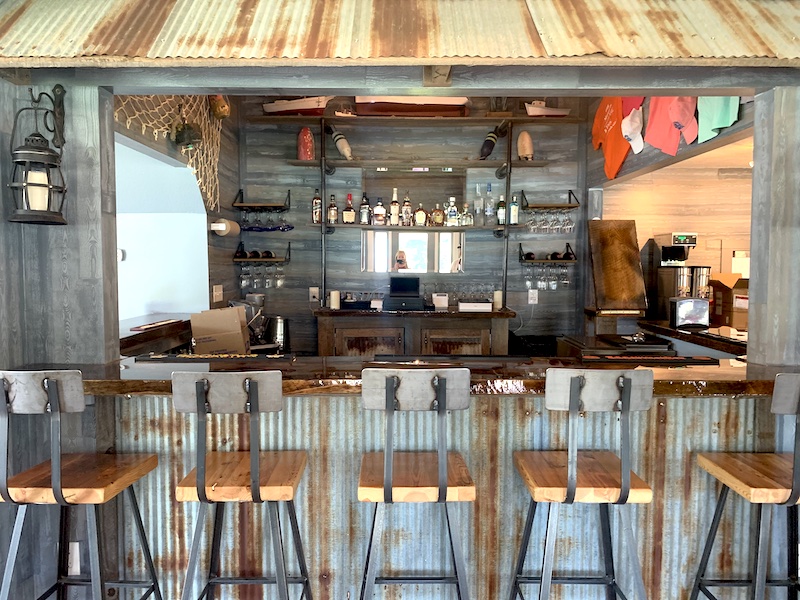 The full service restaurant is now open for dine-in, take out and catering. The restaurant also features a full service bar for specialty cocktails, beer and wine. The kitchen will prepare grilled, baked, broiled, fried, steamed and even smoked menu items. Residents are excited to have a location in Mathews to pick steamed crabs in the season.
A sneak peak of the menu includes fan favorites like tuna poke bowls, "shack shrimp," fresh market tacos, cajun water chicken (frog legs), seafood baskets and po' boys, and specialty seafood like king crab legs and PEI mussels.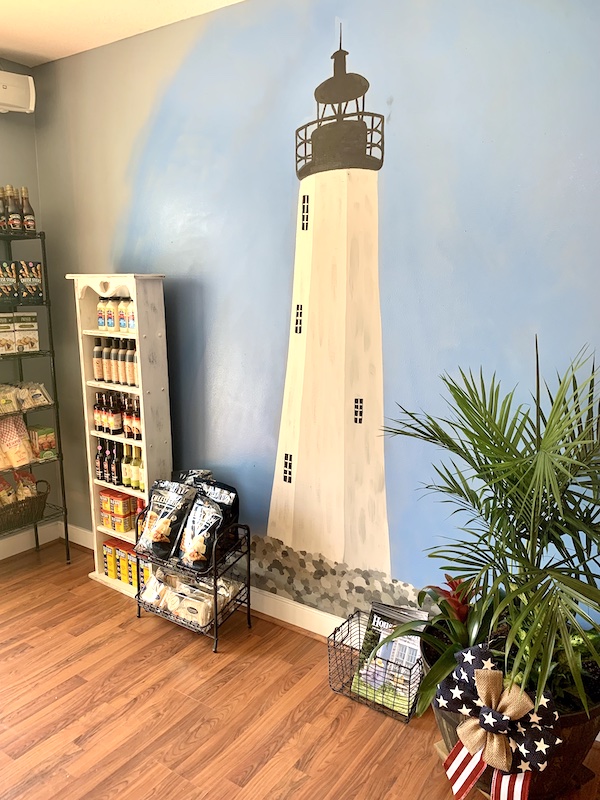 Representing the Community
"The once unheard of hide away on the Bays and waterways is becoming an escape destination. Those who want to get away from the big city life, and find a moment of peace and tranquility with a slower pace, are finding their way to this naturally beautiful, friendly place called Mathews. We want to support our community with employment opportunities, quality goods and services. Be a business that the community is proud of and helps encourage the visitors to return."

Rob Martin
What about the trailer? Rob and Amy hope to have the food trailer available for catering services, and to operate at wineries, festivals and private events once they get the restaurant sustaining. They would also like to continue hosting the Mathews Seafood Festival in September, benefiting Mathews First Responders.
"It is our customers and community that, have given us the inspiration to take such a giant leap," says Rob. The building has allowed them the opportunity to continue growing with the evolving needs of the community.