Description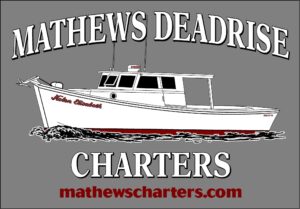 Mathews Deadrise Charters invites you to get away from it all as you enjoy a casual cruise aboard the "Helen Elizabeth", our 34 ft. classic Chesapeake Bay Deadrise boat.  Savor an authentic charter experience with a U.S.C.G. Certified Captain, Trey Sowers. 
Captain Trey offers numerous excursions for groups up to 6 people including family ecotours and fishing, and sunset and East River cruises with views of local river estates, historic homes, Chesapeake Bay wildlife, or beaches and lighthouses. He also offers 1/2 day charter fishing targeting rockfish, speckled trout, croaker, spot, puppy drum, bluefish, and even small sharks. 
Summer cruises usually offer an abundance of wildlife including ospreys, blue herons, egrets, pelicans, eagles, and even dolphins. Captain Trey is also a local oyster farmer, of Chapel Creek Oyster Company, LLC, wear you can harvest your own oysters from his farm.