Fill out the form below and we'll send you the following field guides to help plan the perfect visit to Mathews County. FREE of charge!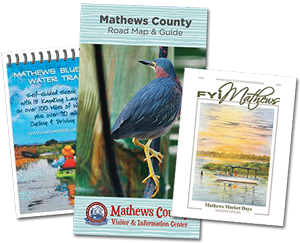 Mathews County Road Map & Guide
A detailed road map with driving tours, historic sites, beaches, and shoreline public access points.
FYI Mathews
Lodging information, shopping & dining, community calendar, marinas, tide charts, and area information.
Mathews Blueways Water Trail Guide
Self guided scenic tours with 15 kayak launch sites and over 100 miles of water trails.
You'll find just about everything you need to know about places to stay and things to do from shopping & dining to exploring the Chesapeake Bay. And remember, in Mathews, all roads lead to Sibley's General Store, home of the Mathews County Visitor & Information Center so don't forget to stop by and say hello.
All three guides are sent free of charge, please limit requests to one package per household. Your email address will be added to our newsletter mailing list. Information will not be shared, sold, or otherwise distributed to any third parties.
Please allow 14 days for delivery:
Contact Us for deliveries outside the U.S.