Events Search and Views Navigation
September 2023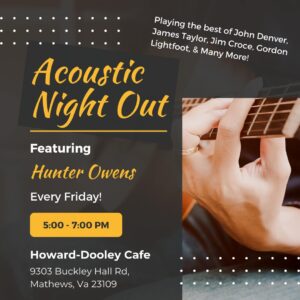 Head on over for some delicious BBQ (and more!) at Howard-Dooley Cafe every Friday night, and enjoy some live music with local musician Hunter Owens! He'll be playing favorites such as John Denver, James Taylor, Jim Croce, Gordon Lightfoot and more!
Find out more »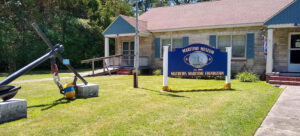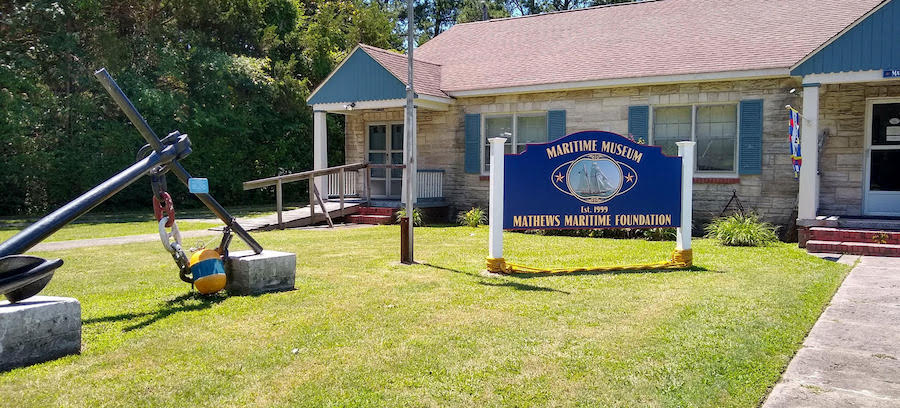 This event will celebrate Mathews Maritime Heritage along with exhibits of current maritime projects at two locations: the Mathews Maritime Museum and Gwynn's Island Boat Shop. There will be local exhibitors present, with info about boat safety, boat building, antique outboard motors, food, music, storytelling, kids' activities, oyster harvesting, and the opportunity to meet author Benn Trask, and visit the vessels Peggy, Freya, and Yellow Submarine!
Find out more »
October 2023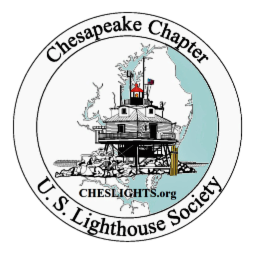 SIX LIGHTHOUSE KEEPERS TO BE HONORED On Saturday, October 7, volunteers with the nonprofit organization, U.S. Lighthouse Society and its Chesapeake Chapter, will honor six Chesapeake Bay lighthouse keepers in special ceremonies at three cemeteries in Mathews County.  During the ceremonies, each keeper will be honored with the unveiling of a United States Lighthouse Service grave marker. The chapter will conduct the first 30-minute long tribute to William Edward Davis at H.C. Smither Cemetery in Hudgins at 9:30 a.m.  The…
Find out more »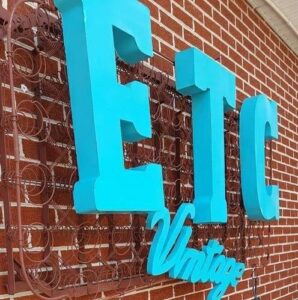 Join Etc. Vintage for their "Second Sunday Shopping" event on October 8th, with Two Salty River Chic's Jus Catch'n Up food truck!!
Find out more »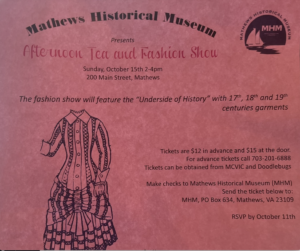 Join the Mathews Historical Museum for an Afternoon Tea & Fashion Show, featuring the "Underside of History," with 17th, 18th and 19th century garments! Tickets are $12 in advance, and $15 at the door- more information on how to purchase tickets is available at the Visitor Center & Doodlebugs.
Find out more »
November 2023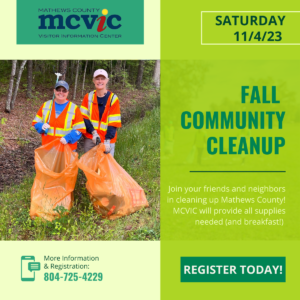 Join us for the Fall Community Cleanup Day! Sign up by emailing or calling The Mathews County Visitor & Information Center. We provide all supplies, plus breakfast and coffee! We can also suggest a route if you don't have one in mind.
Find out more »
December 2023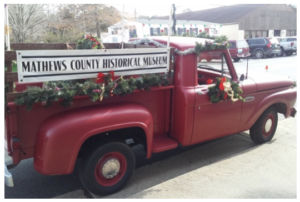 The Mathews Historical Museum will once again open its doors to host its 4th annual Christmas indoor bazaar, offering products ranging from handcrafted jewelry to woodworking, pottery and food items. The Museum is a convenient location from which to view Santa's arrival in the Christmas parade on Saturday. Enjoy the festive storefronts on Main Street, and the Museum's lovely Christmas decorations, which have become one of the highlights of the Christmas season in Mathews County. Inside the Museum, area artisans are on hand to discuss…
Find out more »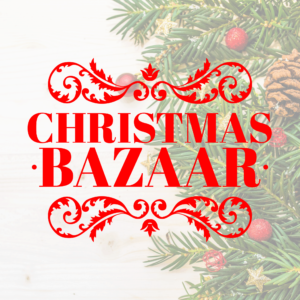 A Christmas weekend in Mathews, welcoming Santa. The Museum will once again open its doors to host the 4th annual Christmas indoor bazaar, offering an array of goods crafted by local artisans, including food, handcrafted jewelry, woodworking, pottery, and Christmas items. Inside the Museum, artisans are on hand to discuss their work. A selection of special edition Mathews prints and trivets by nationally acclaimed artist P. Buckley Moss are still available. For additional information contact [email protected] or visit www.mathewsvamuseum.org!
Find out more »
May 2024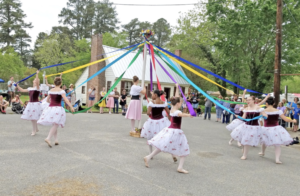 May Faire 2024: A Rural Life, will explore our county's history—farming fishing and families—from the past to the present, in a County Fair atmosphere! This year's May Faire children's corner will be hosted by the local Kiwanis Club and will feature a midway of games with electric basketball, rubber duckies, hatching baby chickens brought to us by CA & J Farm, a petting zoo area, a Hungarian pig and an archaeological dig sponsored by Fairfield Foundation. Inside the Museum there…
Find out more »
+ Export Events