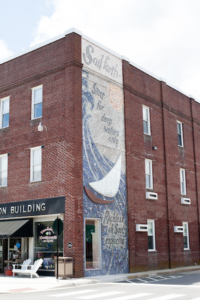 Before you blink at the title again, did you know that "Halcyon" actually refers to a period of time in the past that was happy, blissful, and thriving? Fun fact! 
Originally Foster's Bros. Department Store, The Halcyon building (1930) has seen many forms of creative expression in its long history. Perhaps you've never been inside Halcyon, or maybe you have many years ago. Up on the third floor of Main Street's highest building you will now find young bodies expressing their creative energies on a newly renovated studio floor.
The building's vibrant presence on Main can be seen with an exterior mosaic with Walt Whitman's inspiring words for the Mathews seaman: "Sail forth – Steer for deep waters only, Restless oh Soul, Exploring." This appealing mosaic was designed by two art students out of Mathews High School and spear headed by co-owners Kat Sharp and Bronwyn Hughes, and assisted by Storybound Construction.
In fact there are several small and family-owned businesses inside Halcyon including Kat Sharp's Mathews Massage Studio, Bronwyn Hughes CPA, Machine Tools, Inc., local architecture firm, Hudgins Design Collaborative, vintage boutique, Doodlebugs Consignments and now Mathews Dance Studio.
The nostalgia on the third floor is particularly strong as it once served as a roller rink, furniture store and a small theater – Mathews Film Society. One inspired entrepreneur decided to give the space a new burst of energy and in 2016, a humble dance studio was started. How much more halcyon can it get with youthfulness grooving about its interiors? If you've had kids go through the school system, you may already know the genuine and hardworking entrepreneur, Rachel Morris.
Rachel grew up in Mathews and has been dancing since she was four years old through Diggs School of Dance and Bayside Youth Ballet. She simply loves to dance, and has been teaching young students self expression, exercise, and creativity through the art of dance for over 17 years. This dance studio was her passion project, and with a bit of motivation and a lot of hard work, her small business has grown enough to hire an additional employee, who shares a too-similar background and fervor for dance with Rachel. Together these two are working with children ages 3 to 18 and offering even more classes to accommodate the great response and interest in the community.
This small business has just the right amount of that personal, small-town community feel that can only be found in Mathews, while incorporating the discipline and foundational learning that all children need when pursuing their love for dance. They consider their classes age appropriate and unconventional, and now are offering more classes to the tots of Mathews and surrounding areas to plie or pirouette within the venerable walls of downtown Halcyon.
Consider supporting this local, small business when booking your child's fall or future summer recreational activities, because you can't find a better dance partner or role model than two local teachers!