Stay in Mathews during your next golf trip, getaway! Here are 8 courses within an hours driving distance!
When you look at the glass half full, one reason Mathews stays a relaxing place to getaway is that it doesn't have big resorts, amusement parks, golf courses, and national parks to make it a busy place. People visit Mathews as a reprieve from their fast-paced lives, to unplug, be in the present, get outdoors and be here. Mathews is the escape, but it's close enough to the activities that you love – like golfing.

Though Mathews isn't a golf destination itself, there are many great courses within driving distance!
To see an interactive map of these Mathews Courses: Visit the Map by Clicking Here
To see an interactive map of these Mathews Courses: Visit the Map by Clicking Here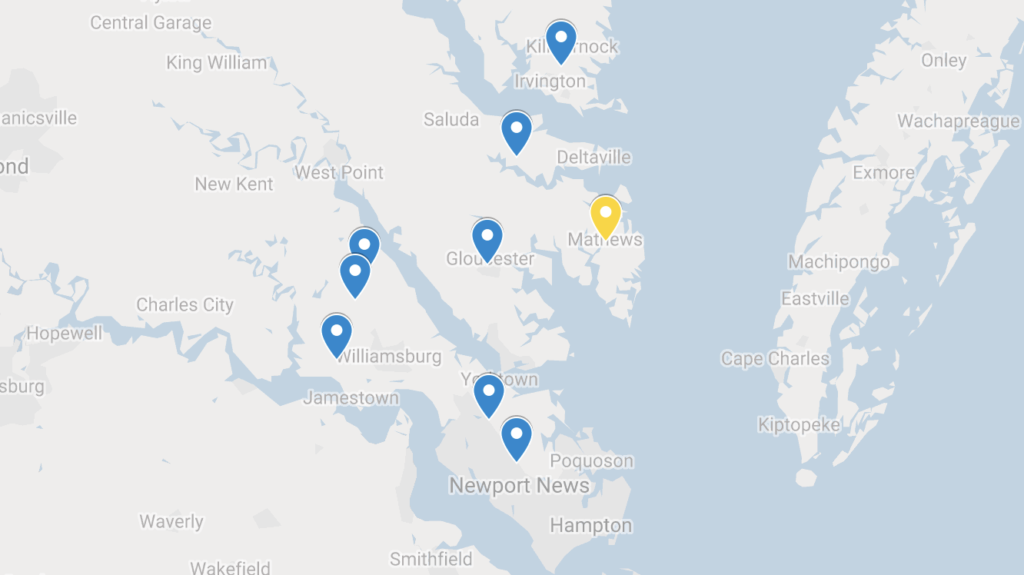 Piankatank River Golf Course (25 minutes)
Visit Website, 6198 Stormont Rd., Hartfield, VA 
The Piankatank River Golf Club is a beautiful course located in Middlesex. It opened in 1996, and its long time reputation has been known for the thoughtful design along its 400 acres of land.

The front nine are lined by trees and rolling hills, while the back nine are flatter with views of the Pianktanank River. The course is great for all levels and includes a restaurant, shop, and golf facility.
Gloucester Golf Course(25 minutes)
6731 Golf Club Rd, Gloucester, VA 23061
This Course is great for a full day to practice your golf shot and walk around the grounds. For a very small price, you can use this course all day away from crowds, and in an area to perfect your skill. A nine hole, non-traditional course.
Golden Eagle Golf Club (40 minutes)
Visit Website, 364 Clubhouse Rd, Irvington, VA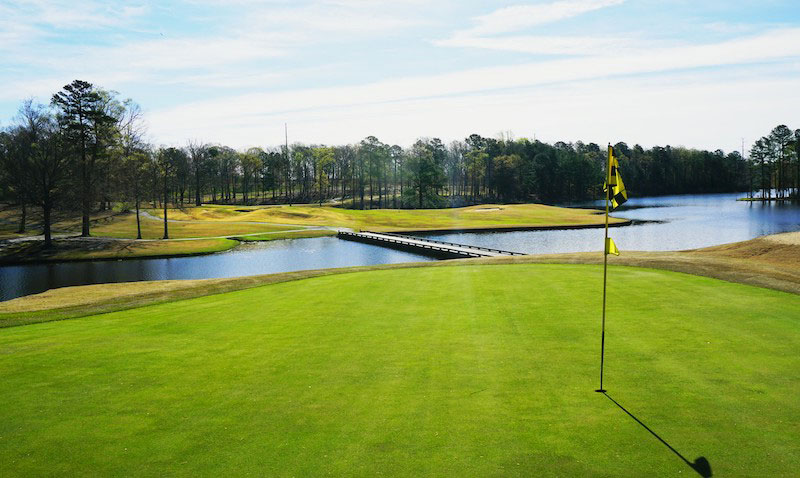 This Chesapeake Bay golf resort is an ideal setting for Virginia golf vacations.
Golden Eagle Golf Club is located in Irvington, as part of the beautiful Tides Inn Resort. This is a 50-acre wooded area, 18 hole, Championship golf course for all skill levels. This course features exciting elevation changes, and effective layout, a driving range, and a club house. Both day fees and membership are available at the Golden Eagle.
Newport News Golf Club at Deer Run (45 minutes)
Visit Website, 901 Clubhouse Way, Newport News, VA 
Not far away you can play the 36 holes of Championship golf at Newport News Golf Club. Players rarely see another group of golfers at this +7,000 yard course. This course is for nature-lovers!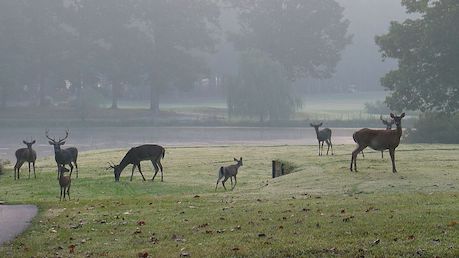 You are likely to see an abundance amount of wildlife – it's called deer run for a reason! In fact, this area has been listed on the National Audubon Society Registry.
Newport News Disc Golf Course is also featured here!
Kiln Creek Golf Club and Resort (1 Hour)
Visit Website,1003 Brick Kiln Blvd, Newport News, VA
This premier golf course is one of a kind in the peninsula area. The facilities are elegant, and offer plenty to its guests whether visiting for the day, or staying at the lodge. This course even has its own app!
With nearly 7,000 yards, par 72 layout, this course was designed by architect Tom Clark, and has been distinguished as one of the best courses in Virginia! All skill levels will enjoy the scenery of the 18 hole course when visiting for the day. You can also enjoy the delicious dining options on sight!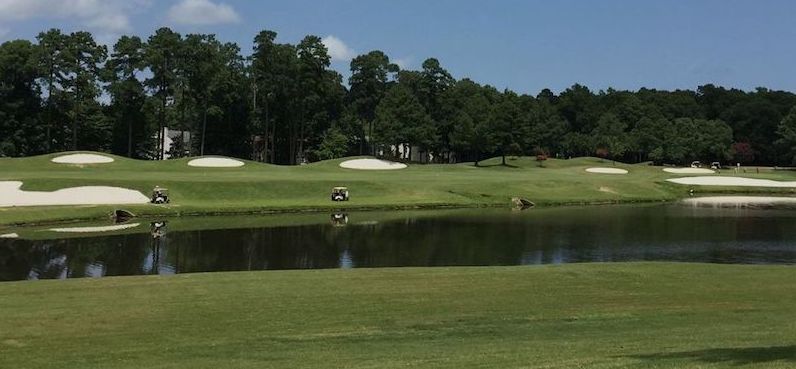 Kiskiack Golf Course (1 Hour)
Visit Website, 8104 Club Dr., Williamsburg, VA
This course runs along the ridge of a natural bluff, with ample green and gentle slopes. This course was voted the best course in Williamsburg in 2017! Kiskiack offers a practice facility, full driving range for practicing your short and long game, as well as an 18 hole course.
This is a popular and affordable option for a full day of golfing during vacation!
Colonial Heritage Golf Club(1 Hour)
Visit Website, 6500 Arthur Hills Dr., Williamsburg, VA

For a picturesque day in the Colonial Williamsburg area, you'll want to add this course to your itinerary. This high-ranked course meanders through 175 acres of densely wood grounds, spans 6,800 yards with a par 72 championship course. 5 sets of tees over gorgeous playing conditions, will enhance your travel experiences to the historic place where U.S. history began!
This course has a very natural surroundings that will make you feel tucked away in its well-groomed course when putting 18 holes.
Williamsburg National Golf Club (1 Hour, 10 min)
Visit Website, 3700 Centerville Rd., Williamsburg, VA
This course is as regal as it's name – the Williamsburg National Golf Club is tucked away in Williamsburg's Historic triangle honoring the history, and beauty of the 18 hole Nicklaus-designed Jamestown AND newer Tom Clark Yorktown courses. This site has been around since 1995, and now encompasses two distinctly different golf experiences, within one club.
Both courses have different golf experiences, and you will surely find what you are looking for at this club!
Book your stay in Mathews County, when making your golf getaway plans!